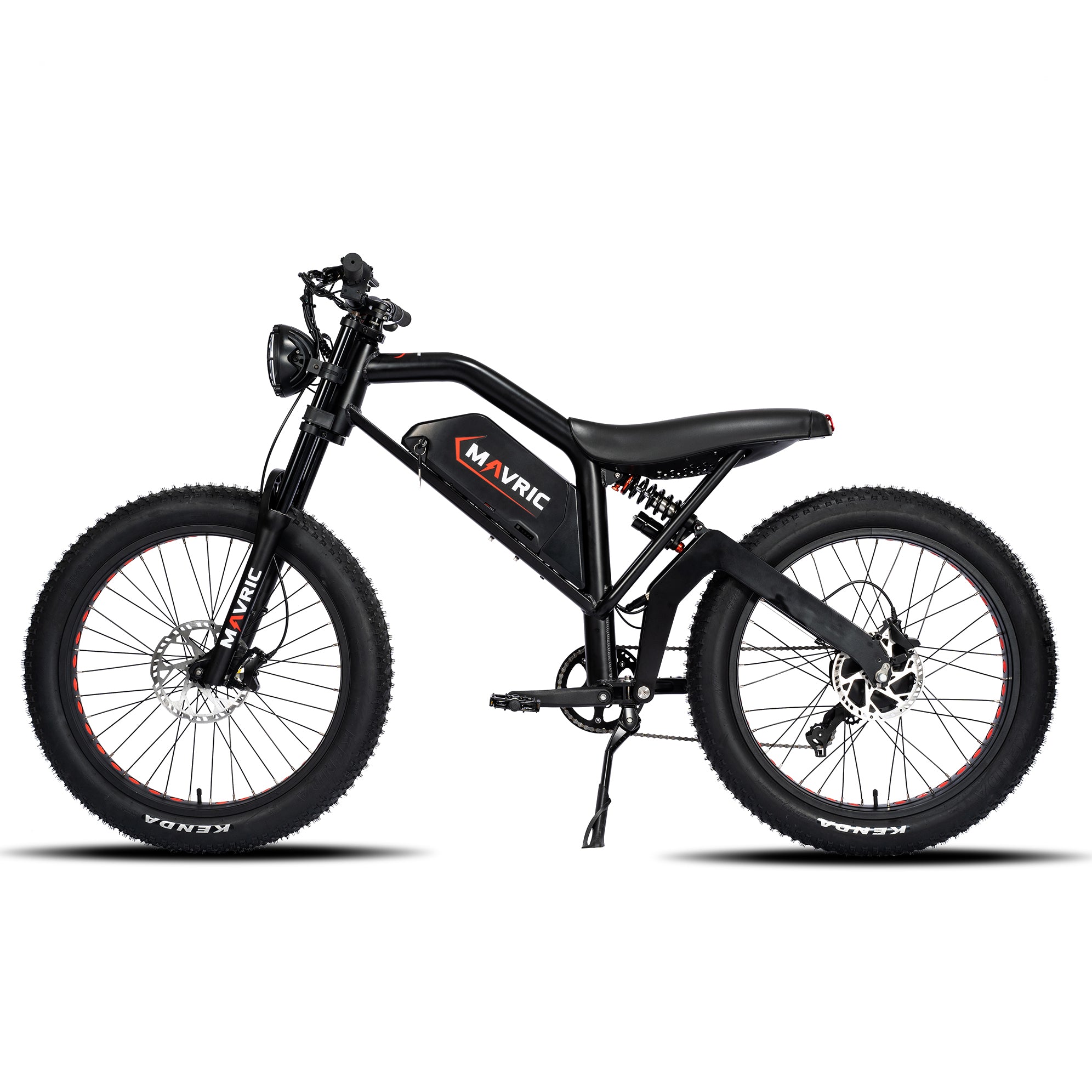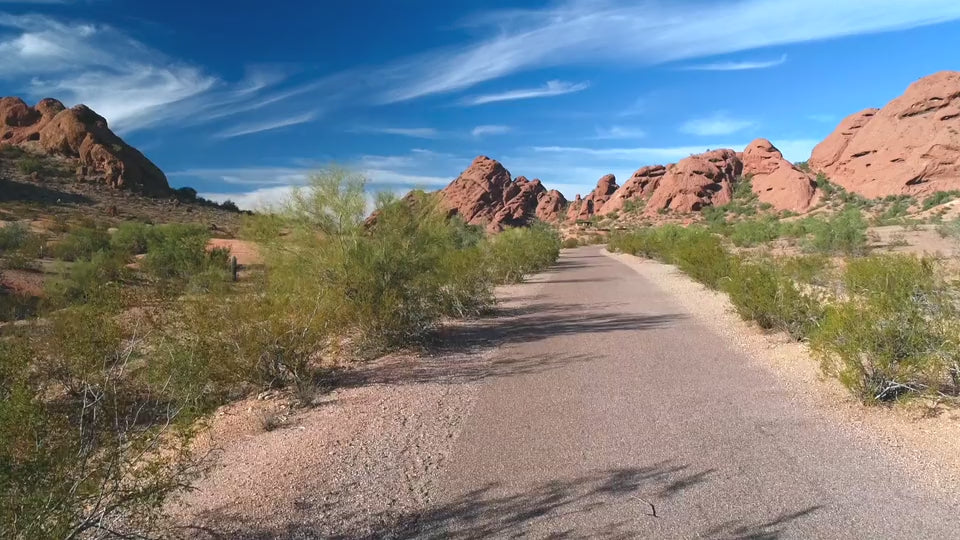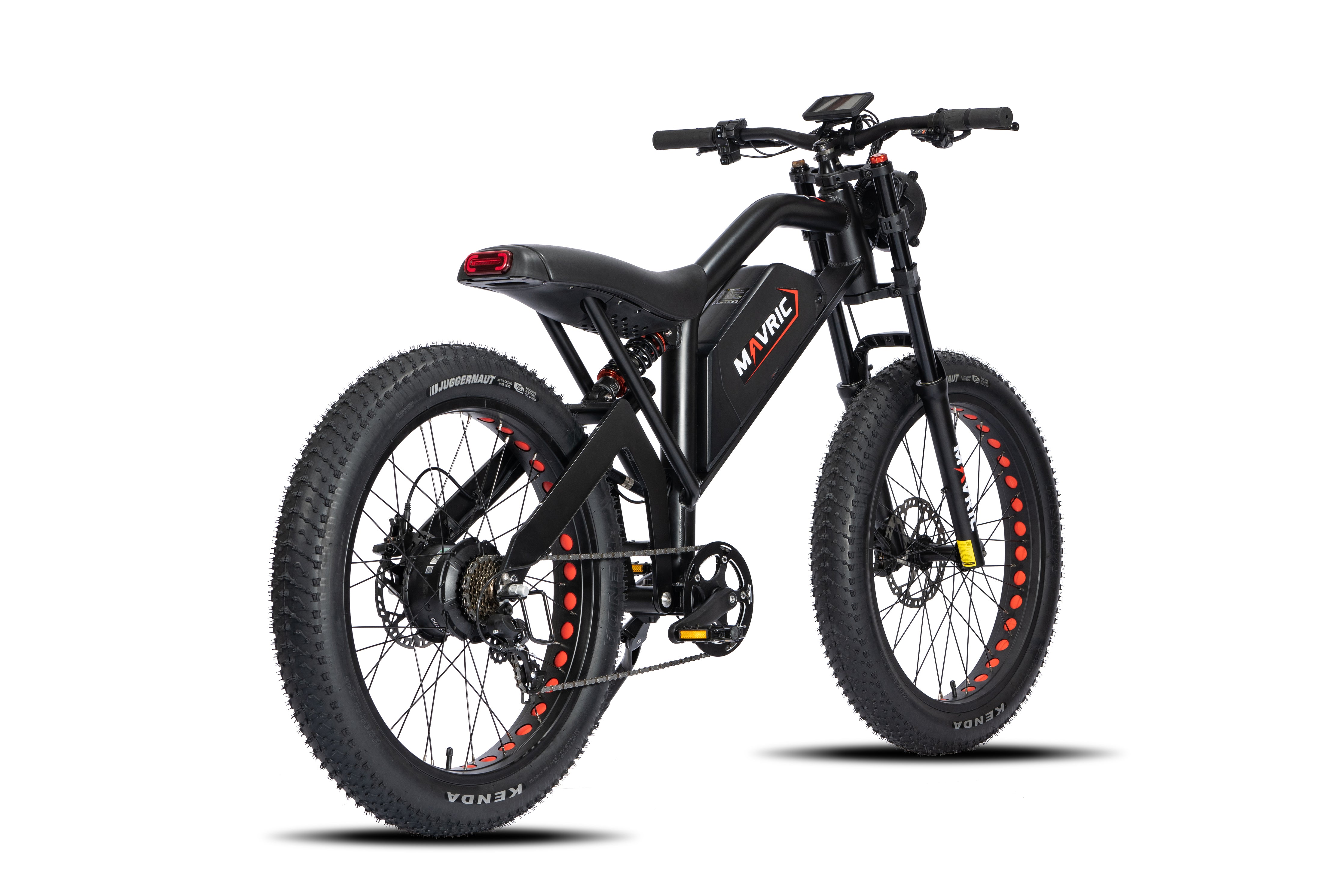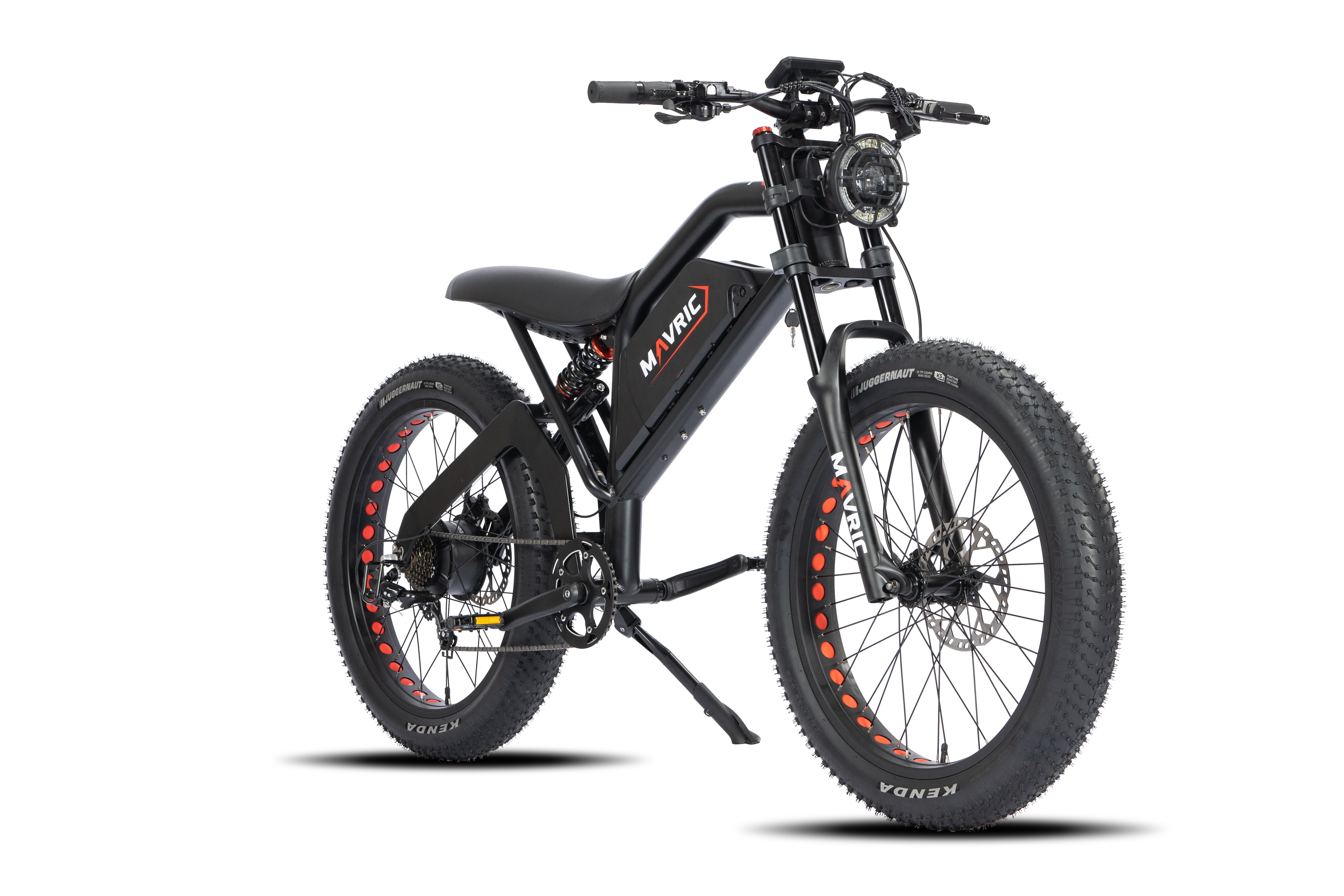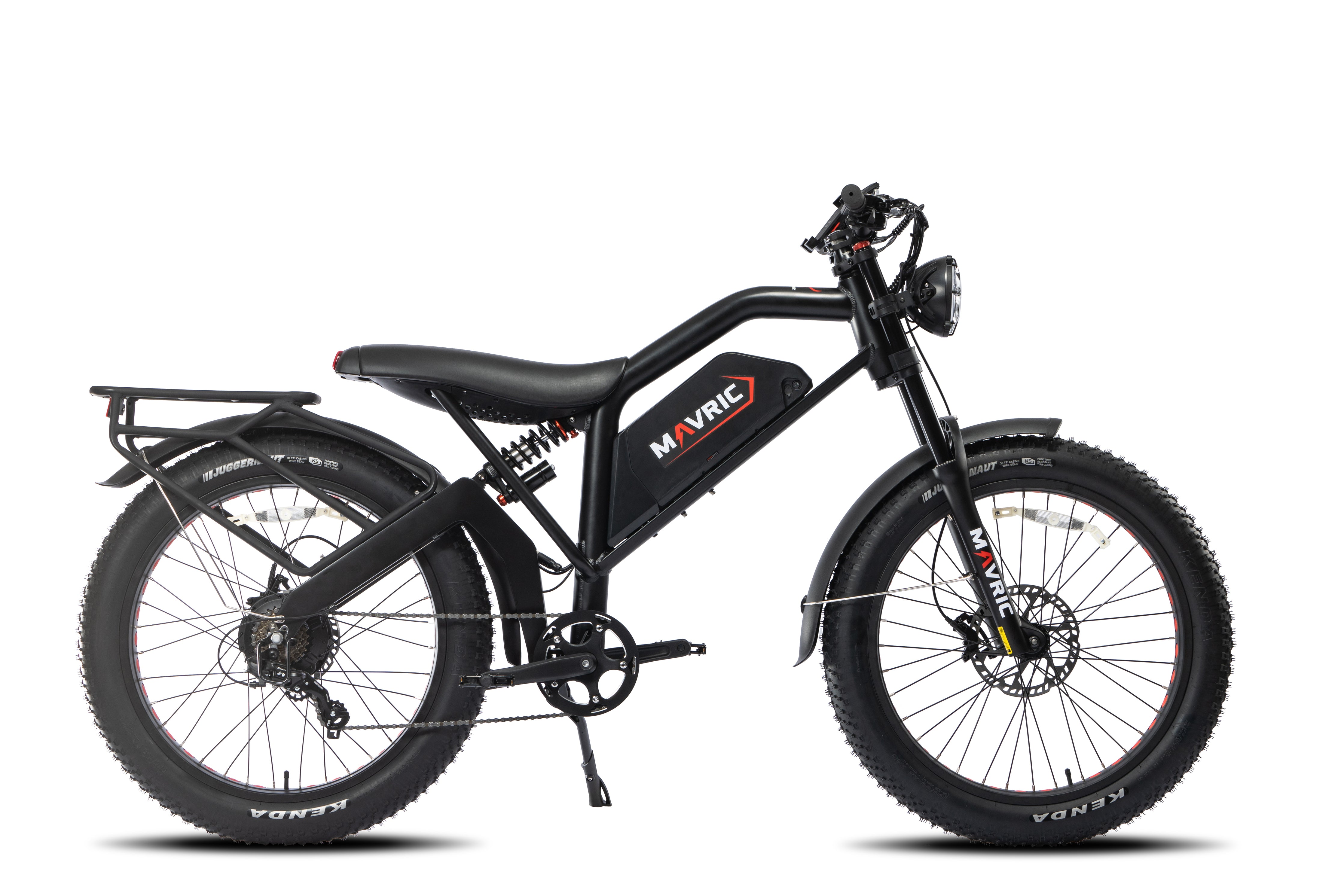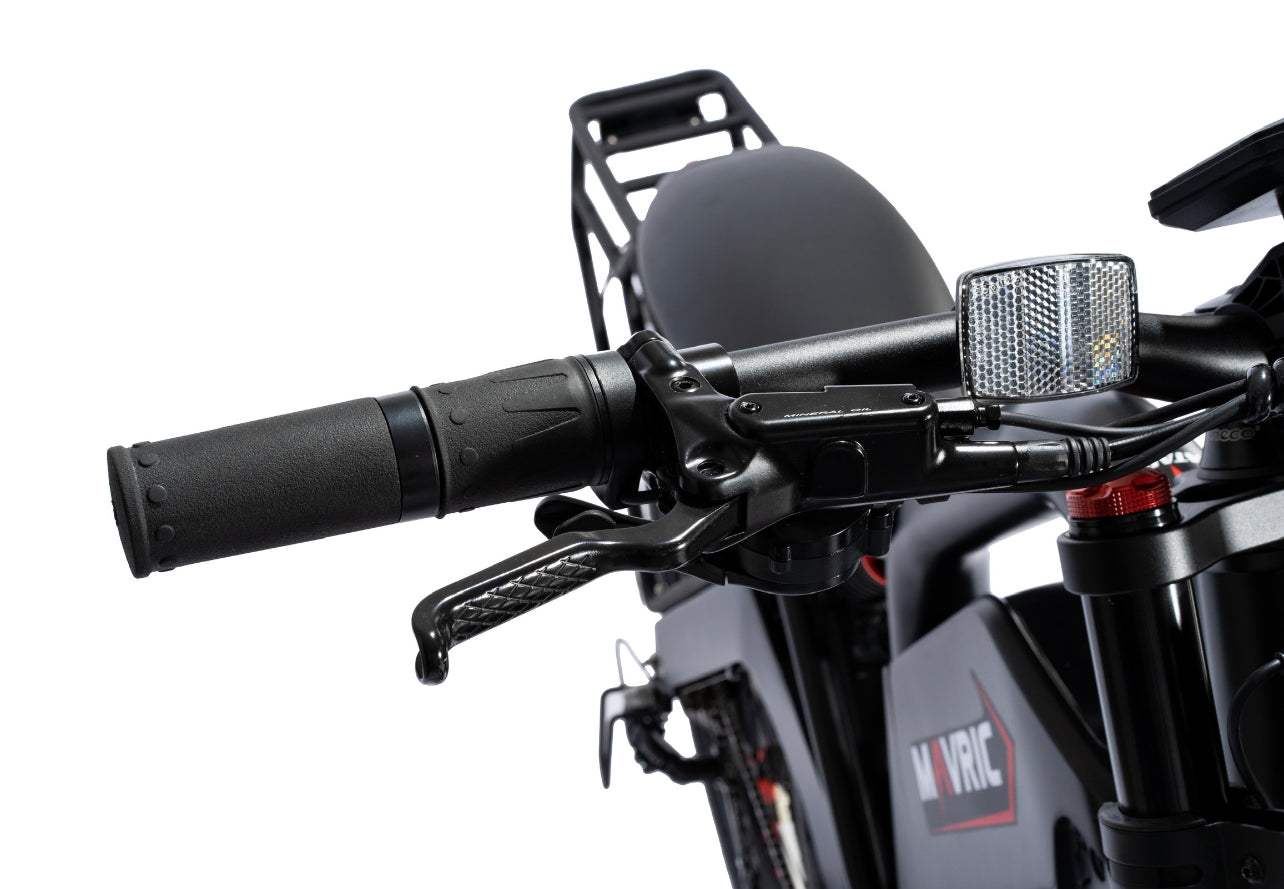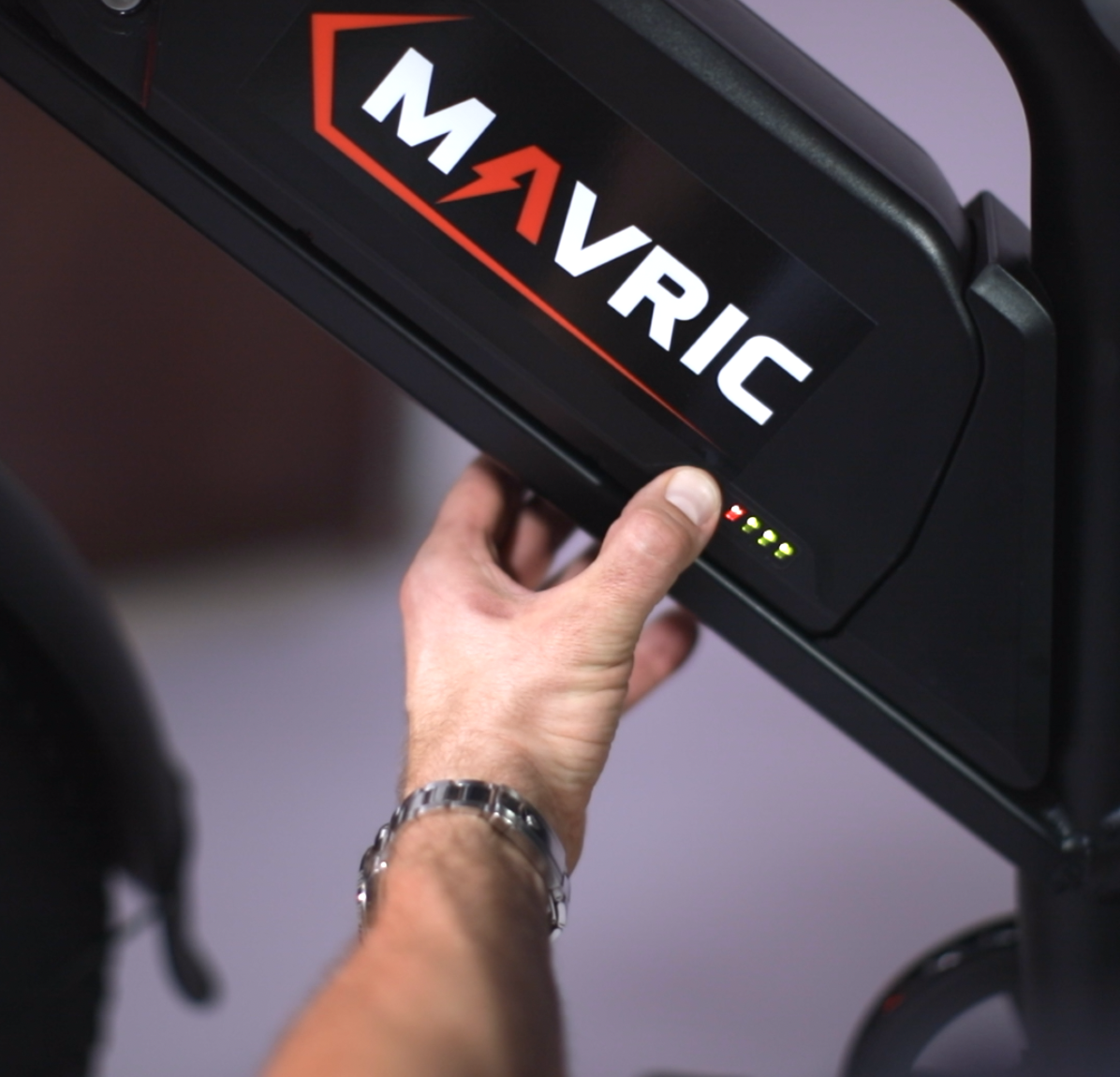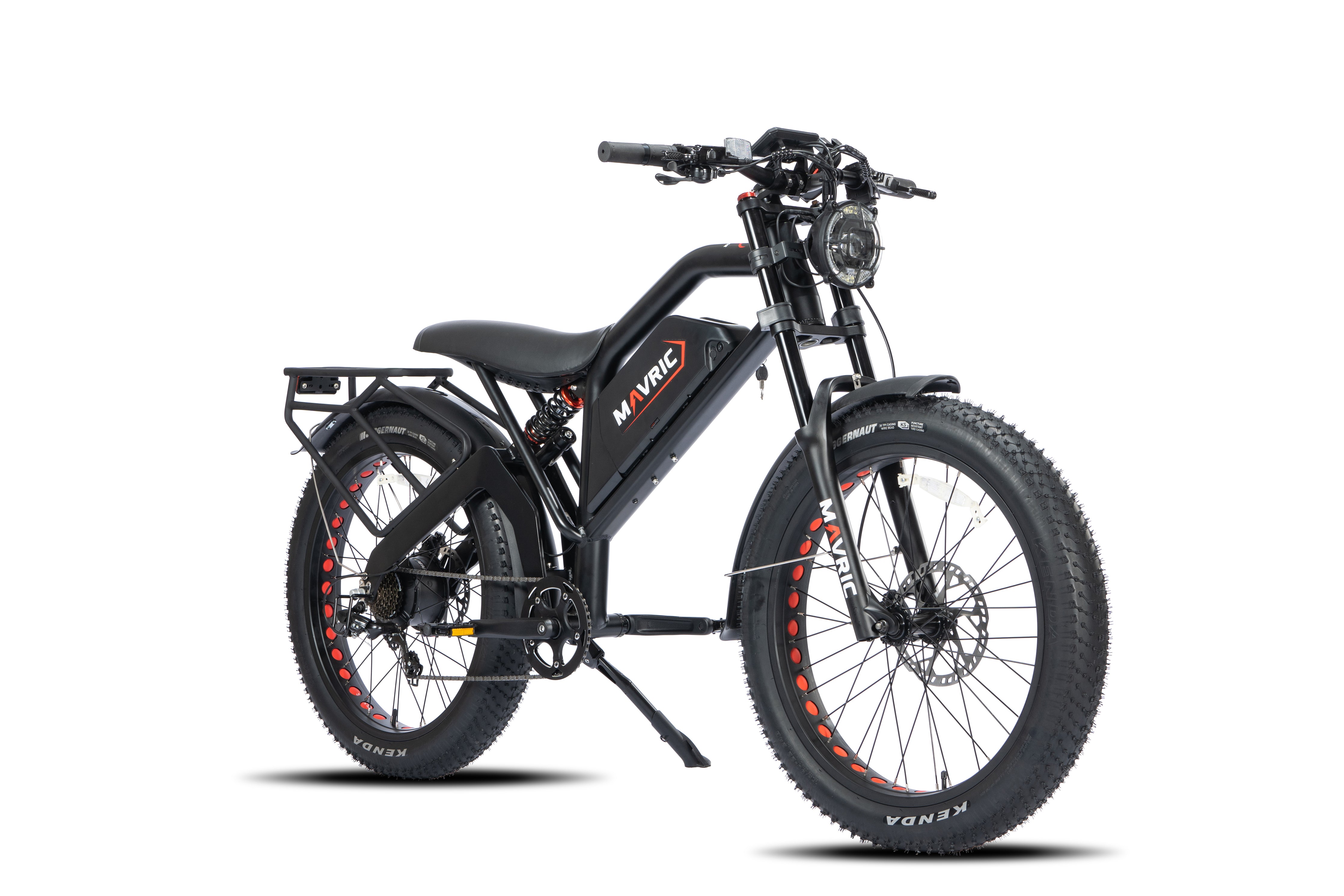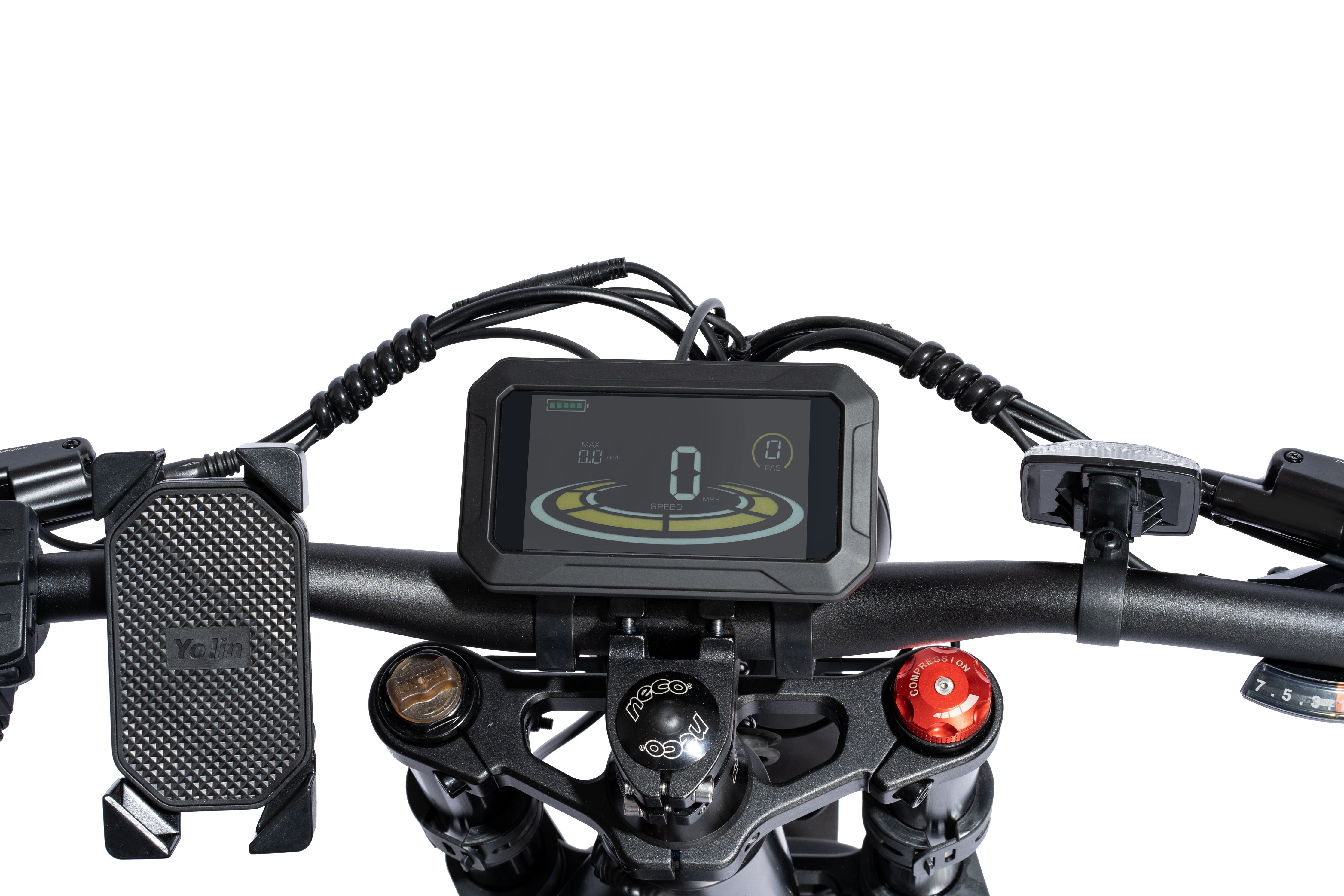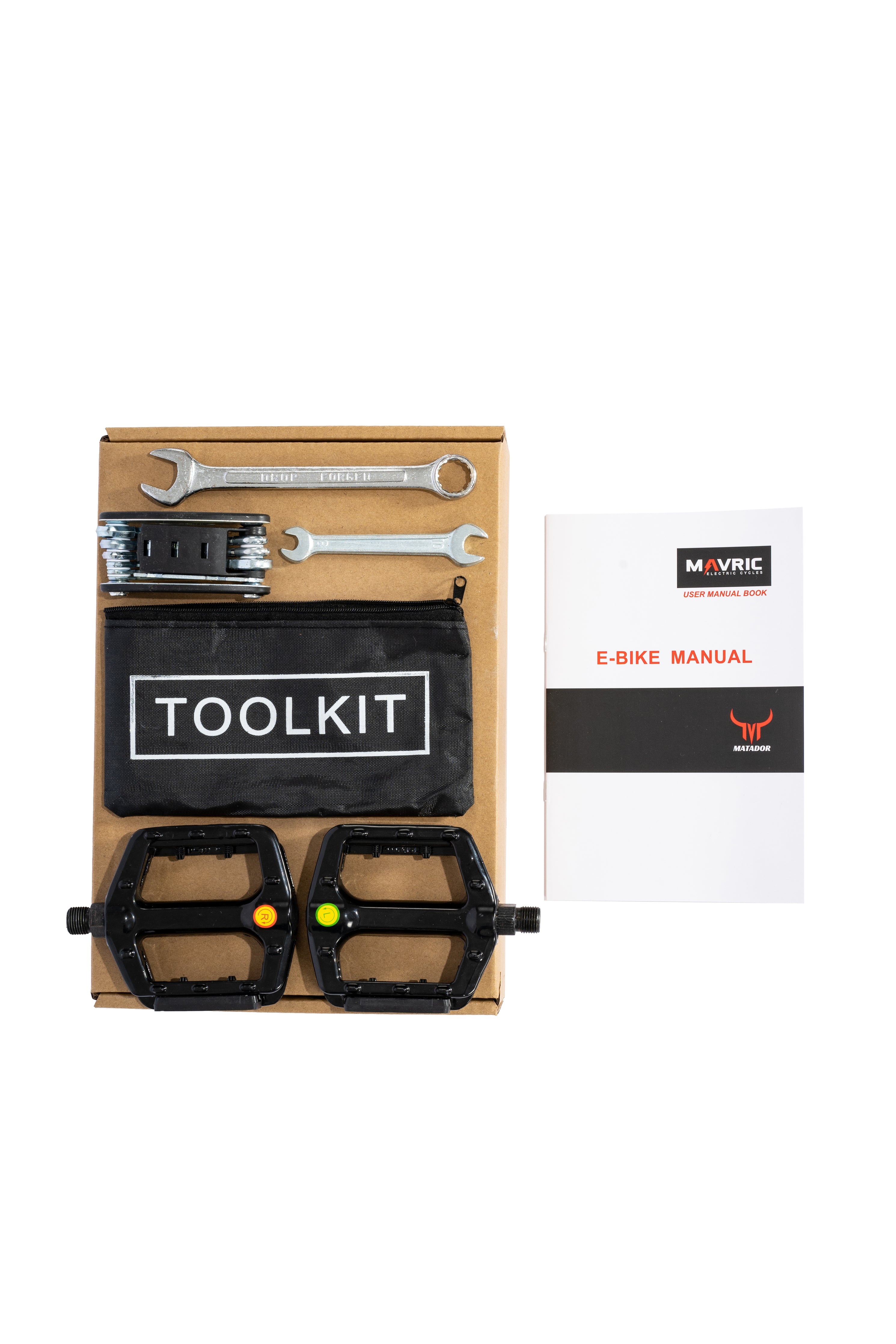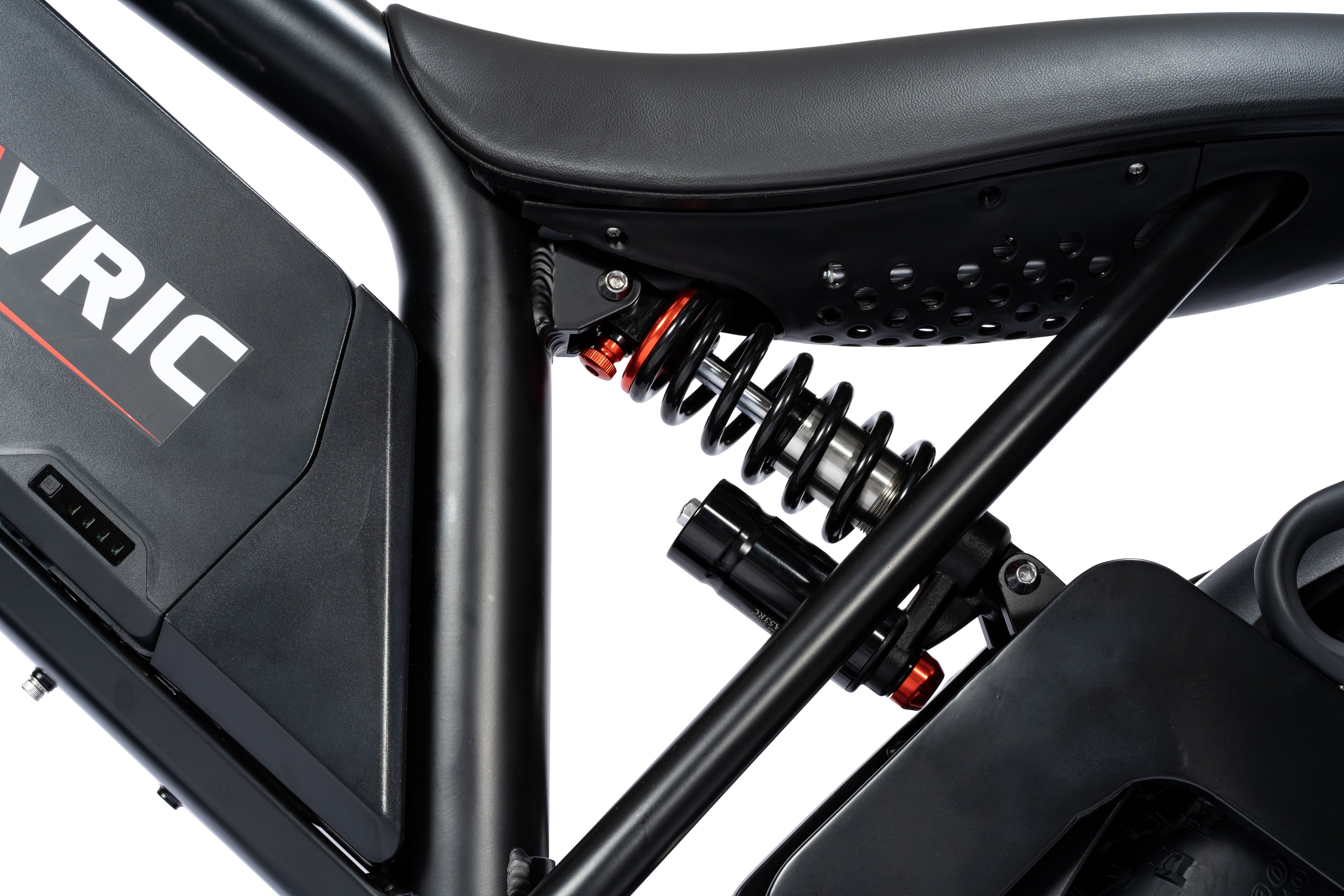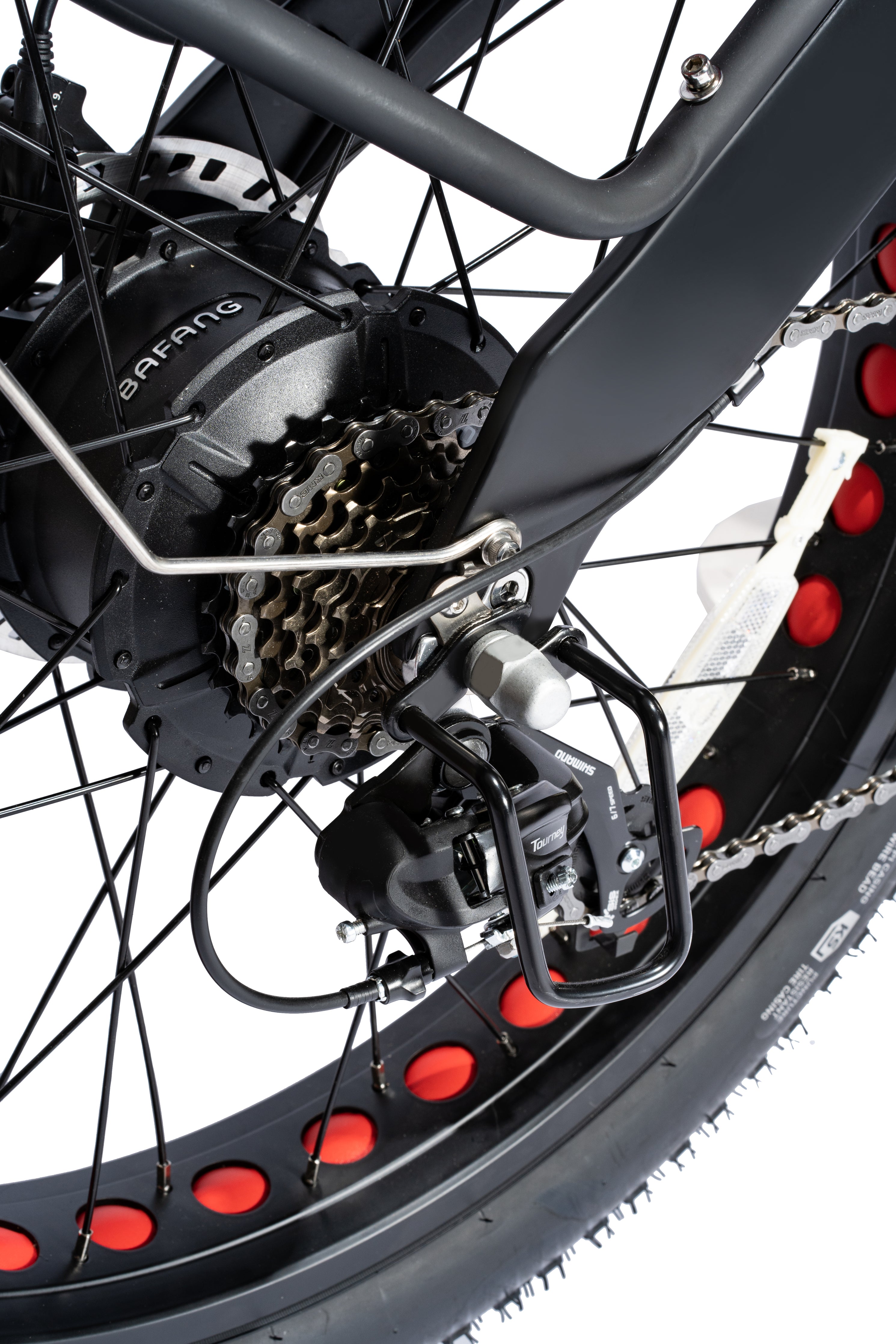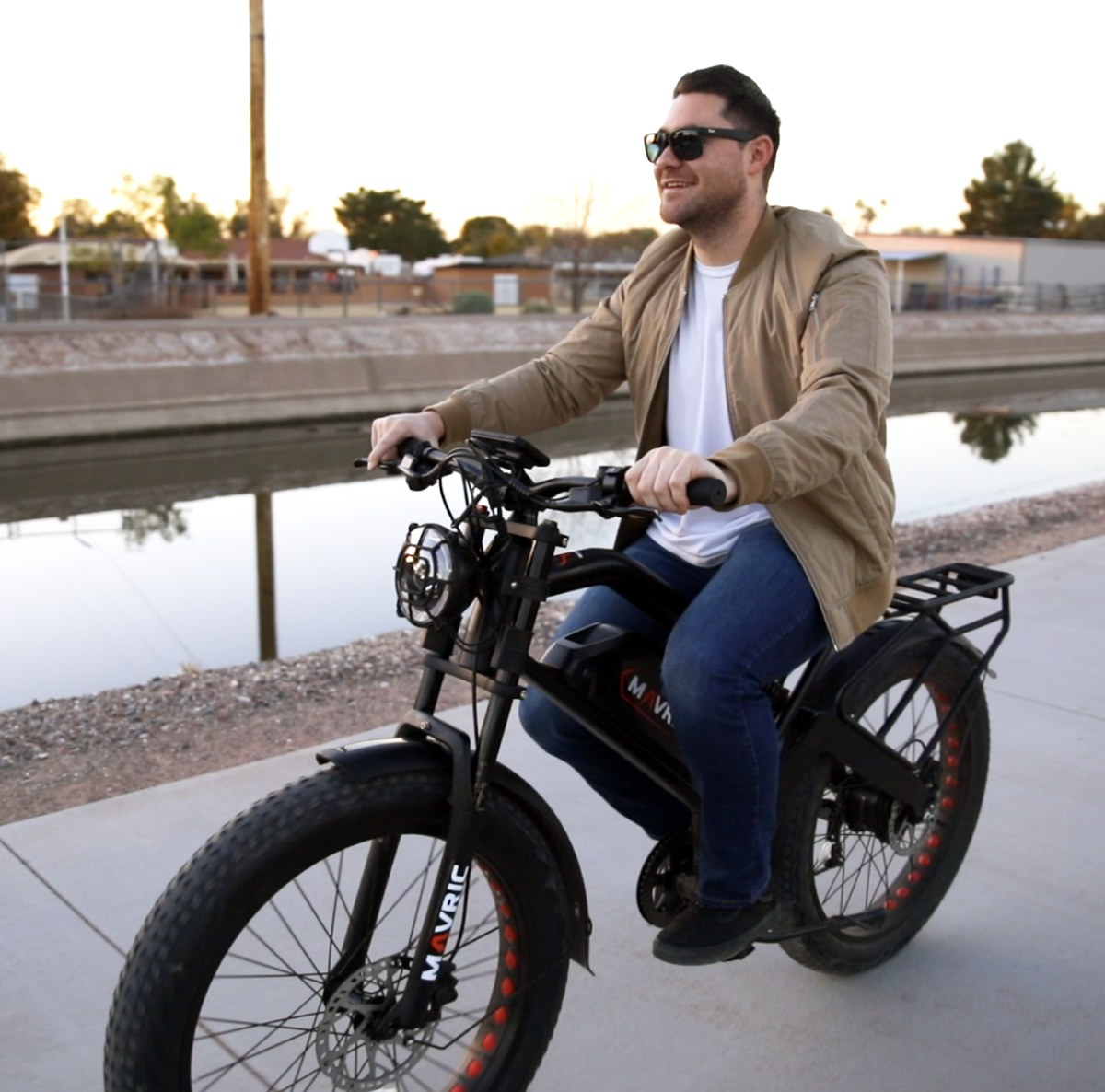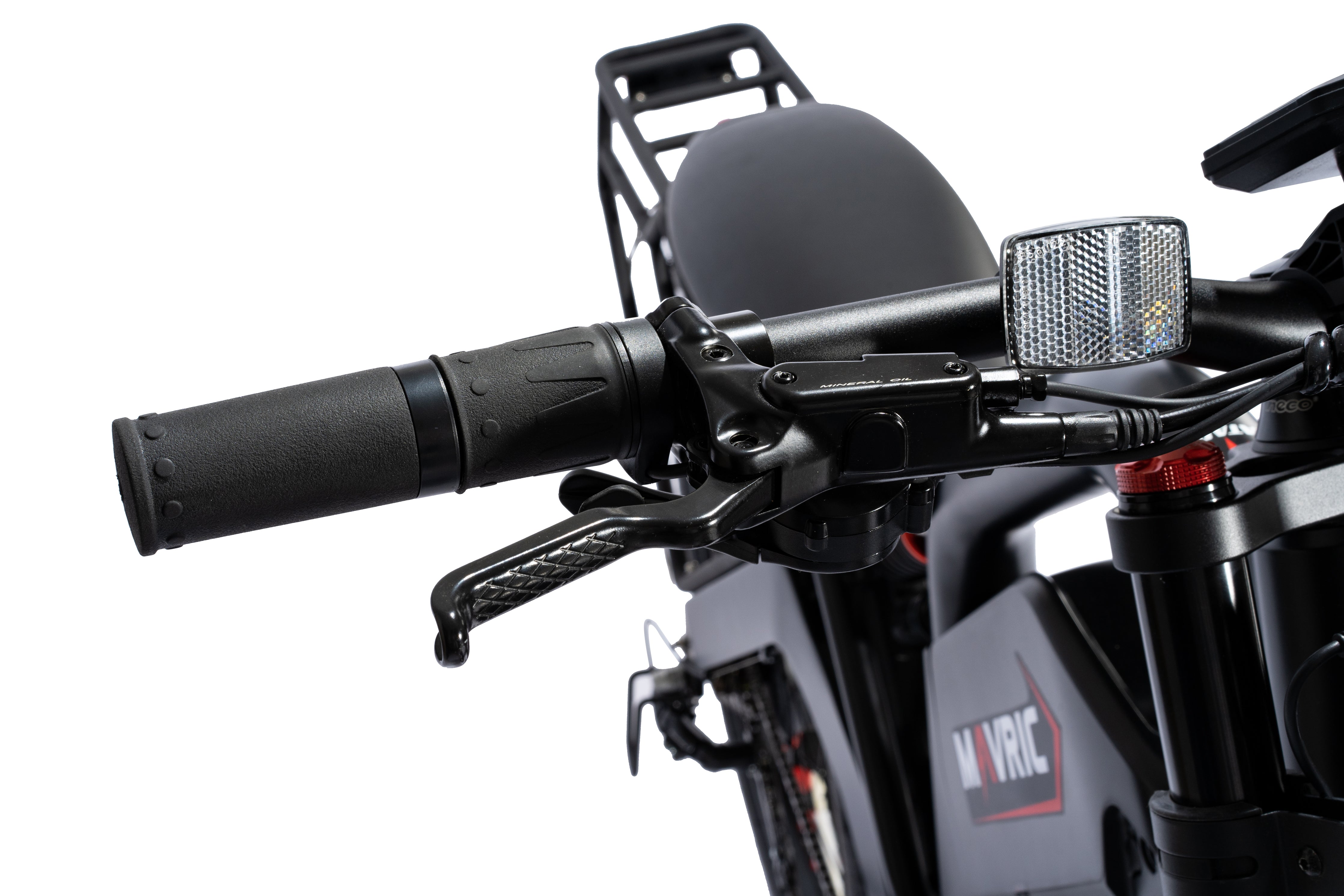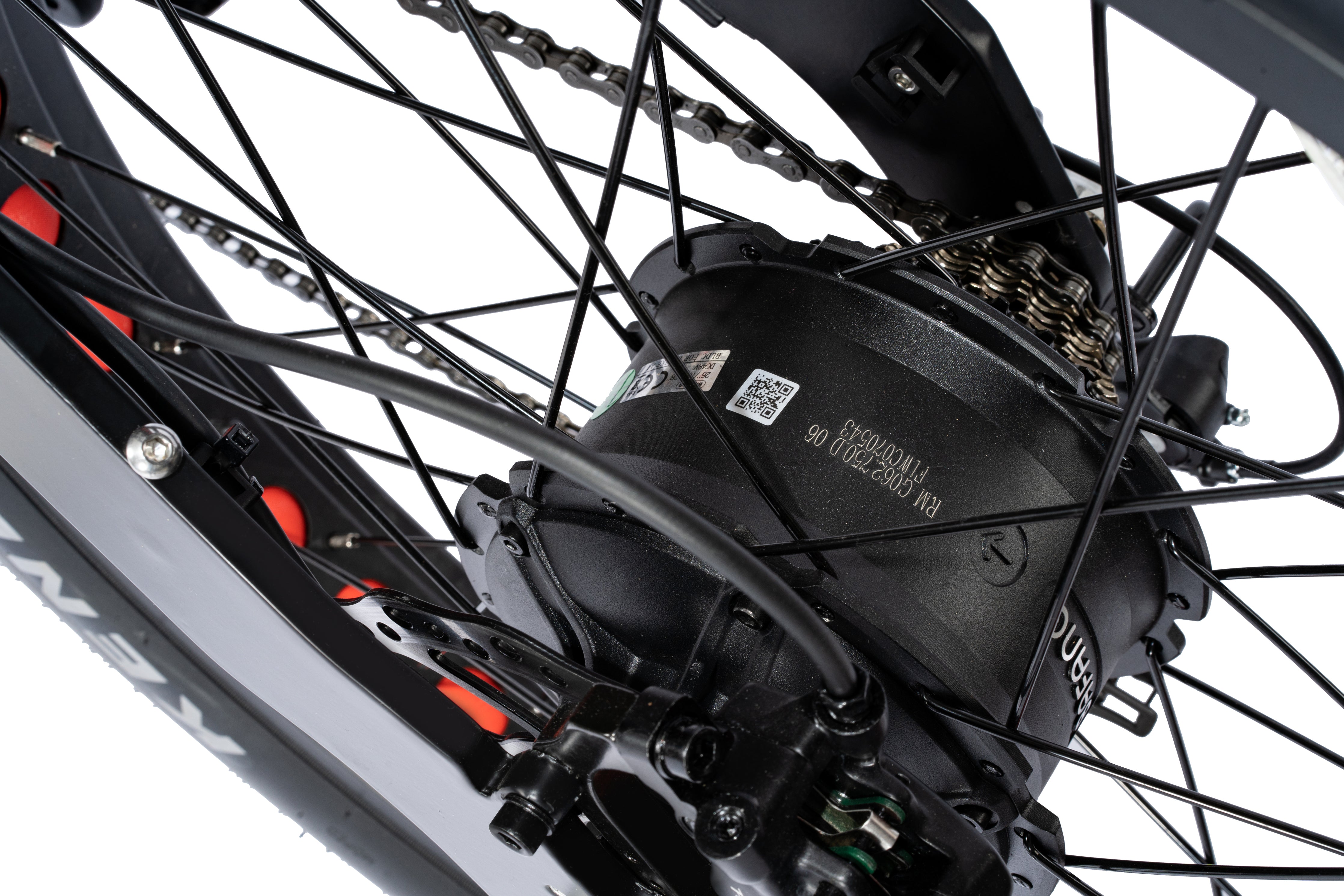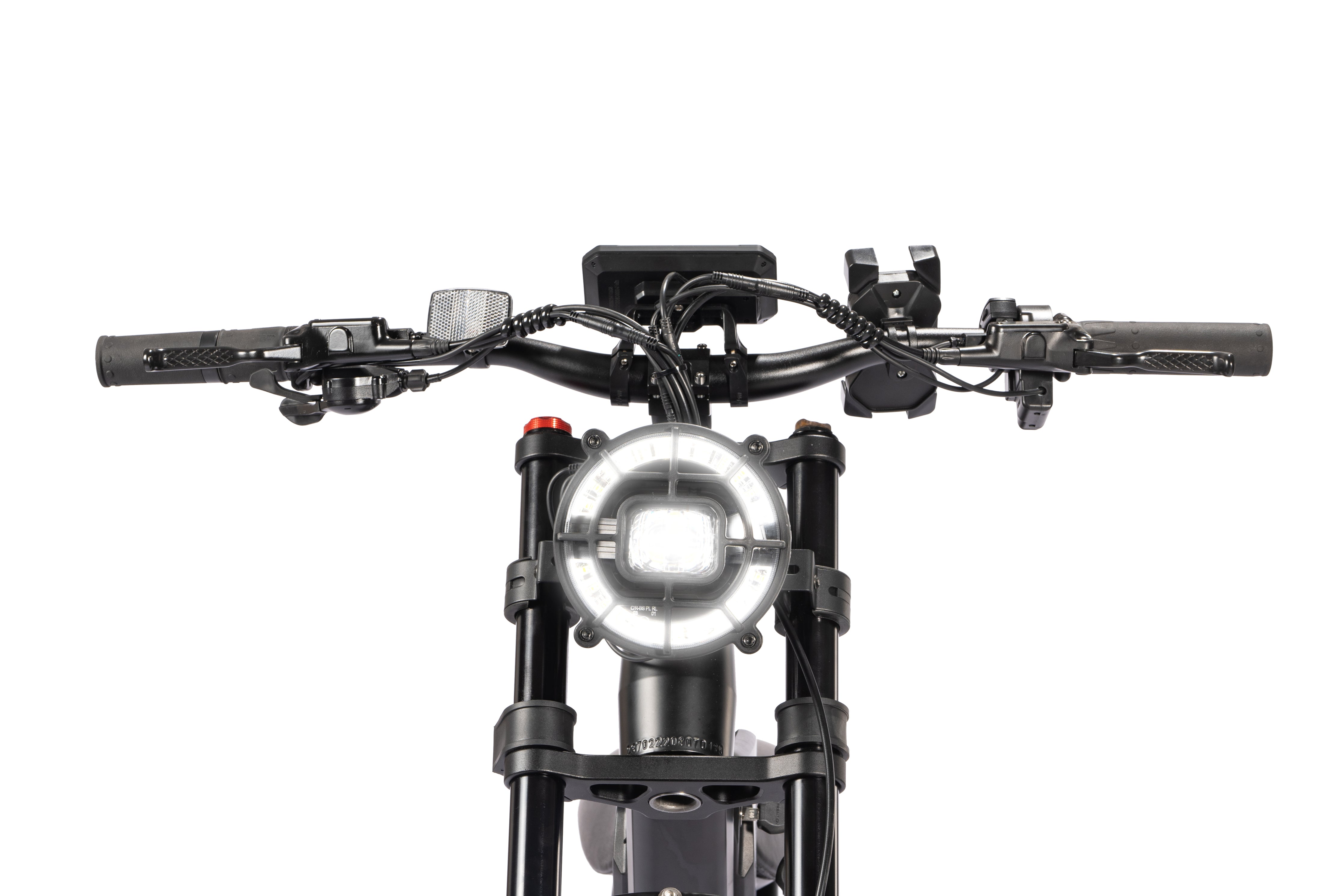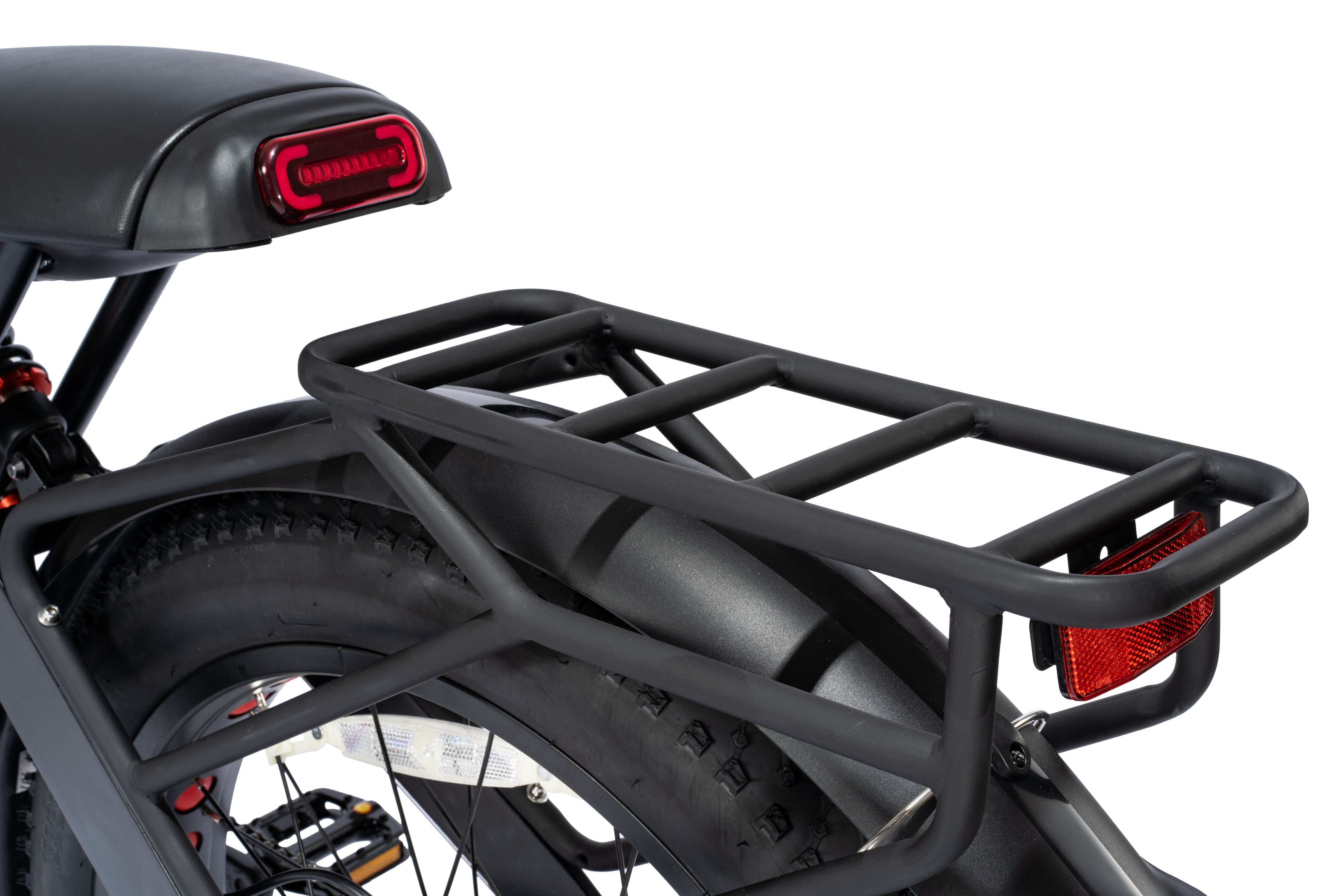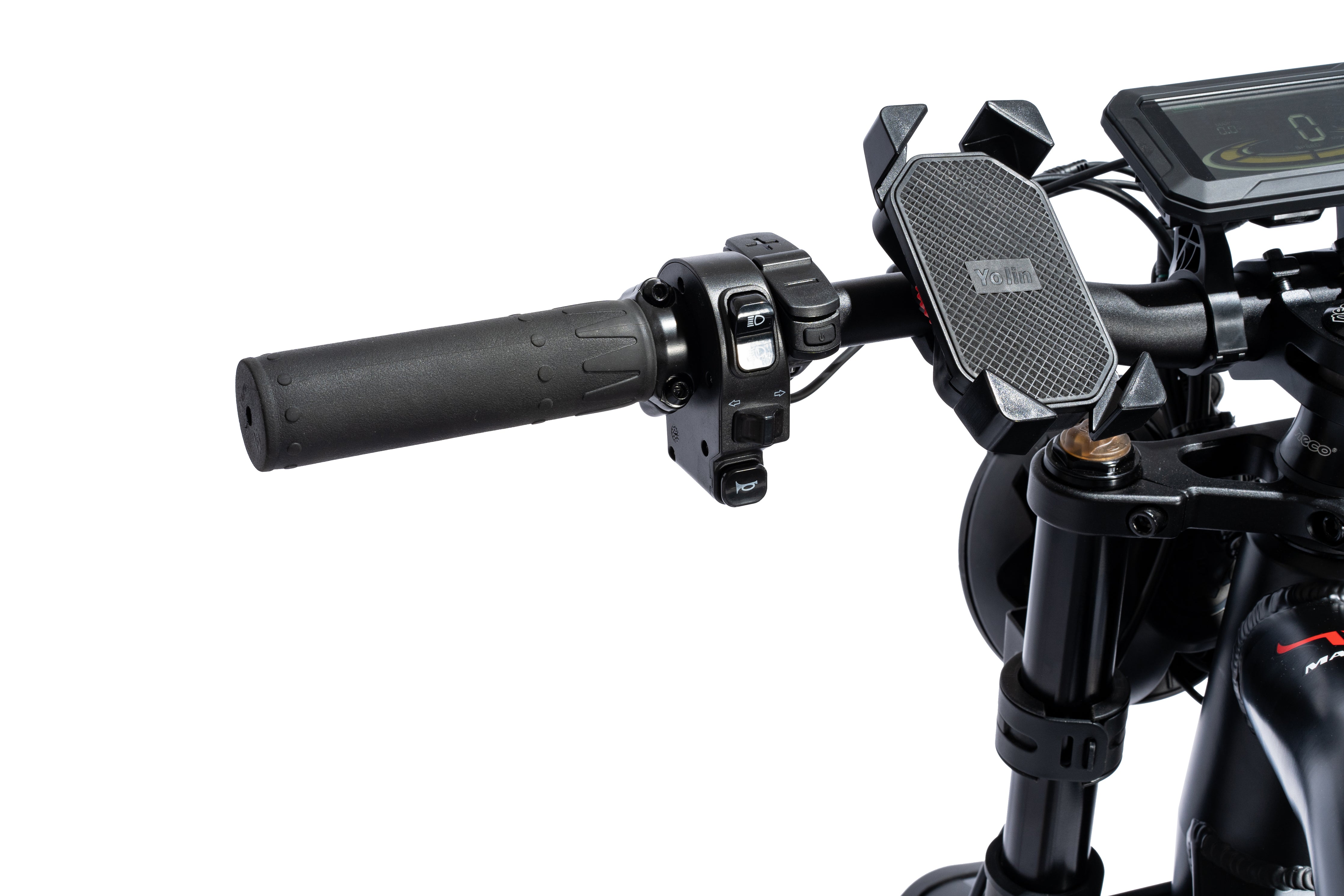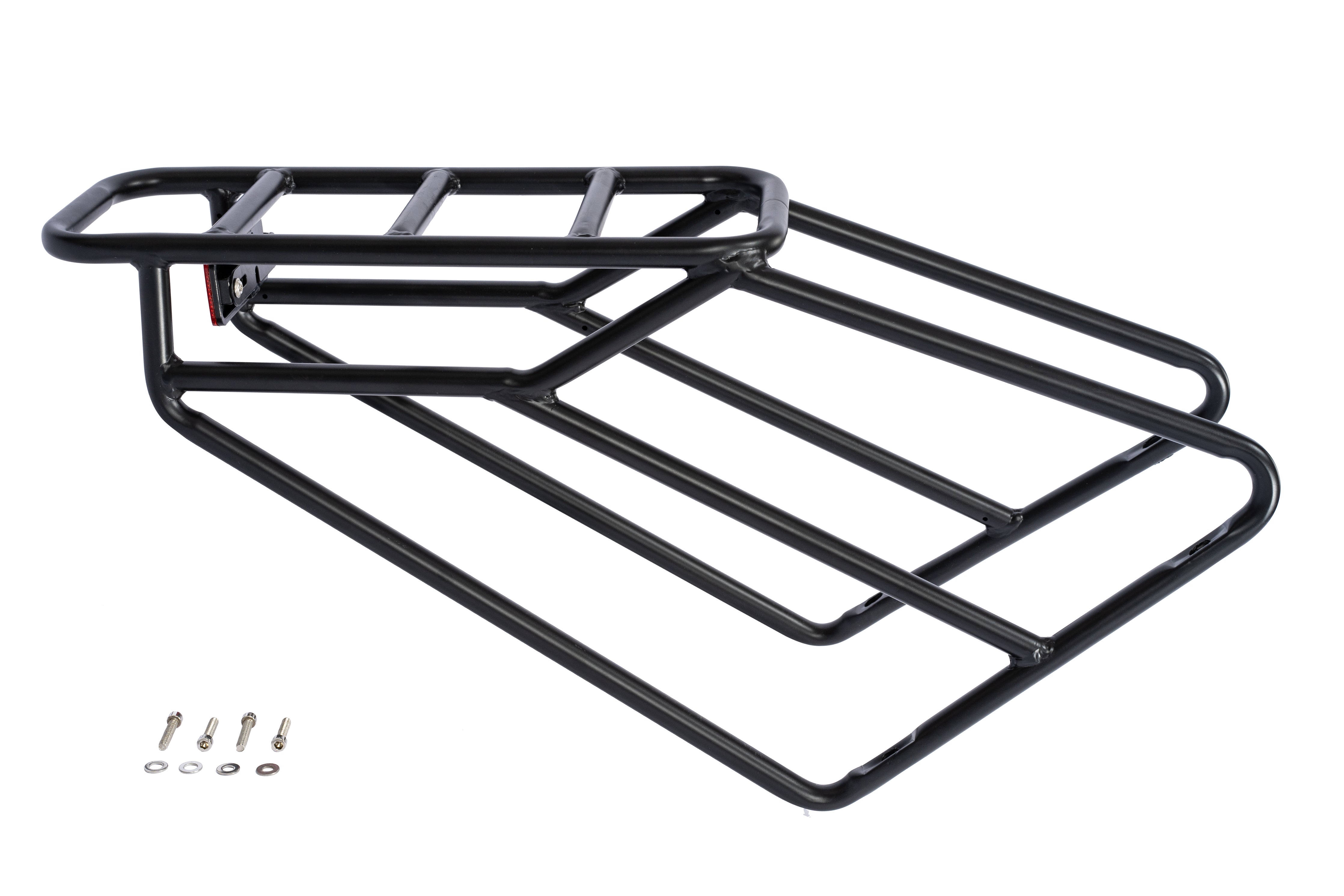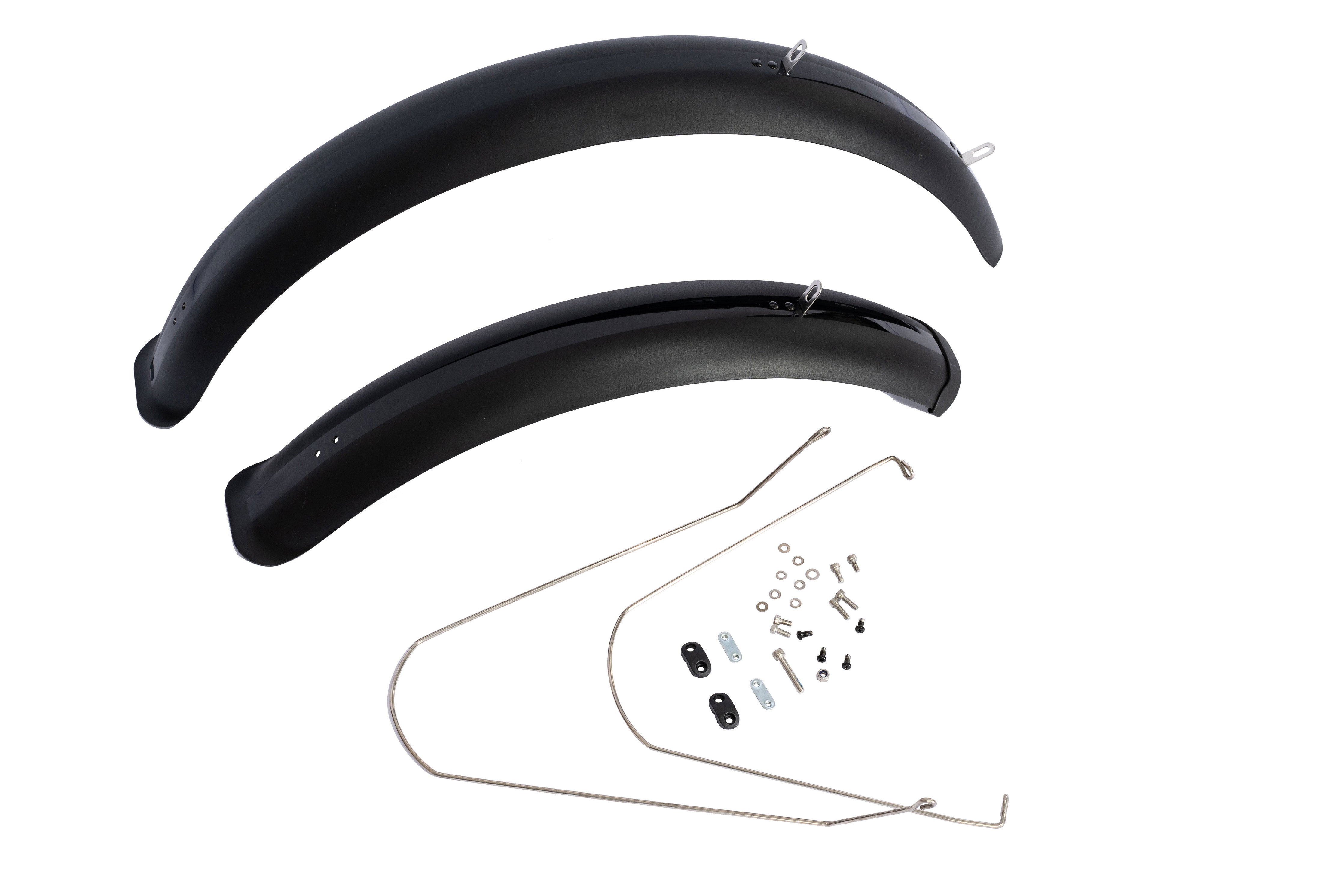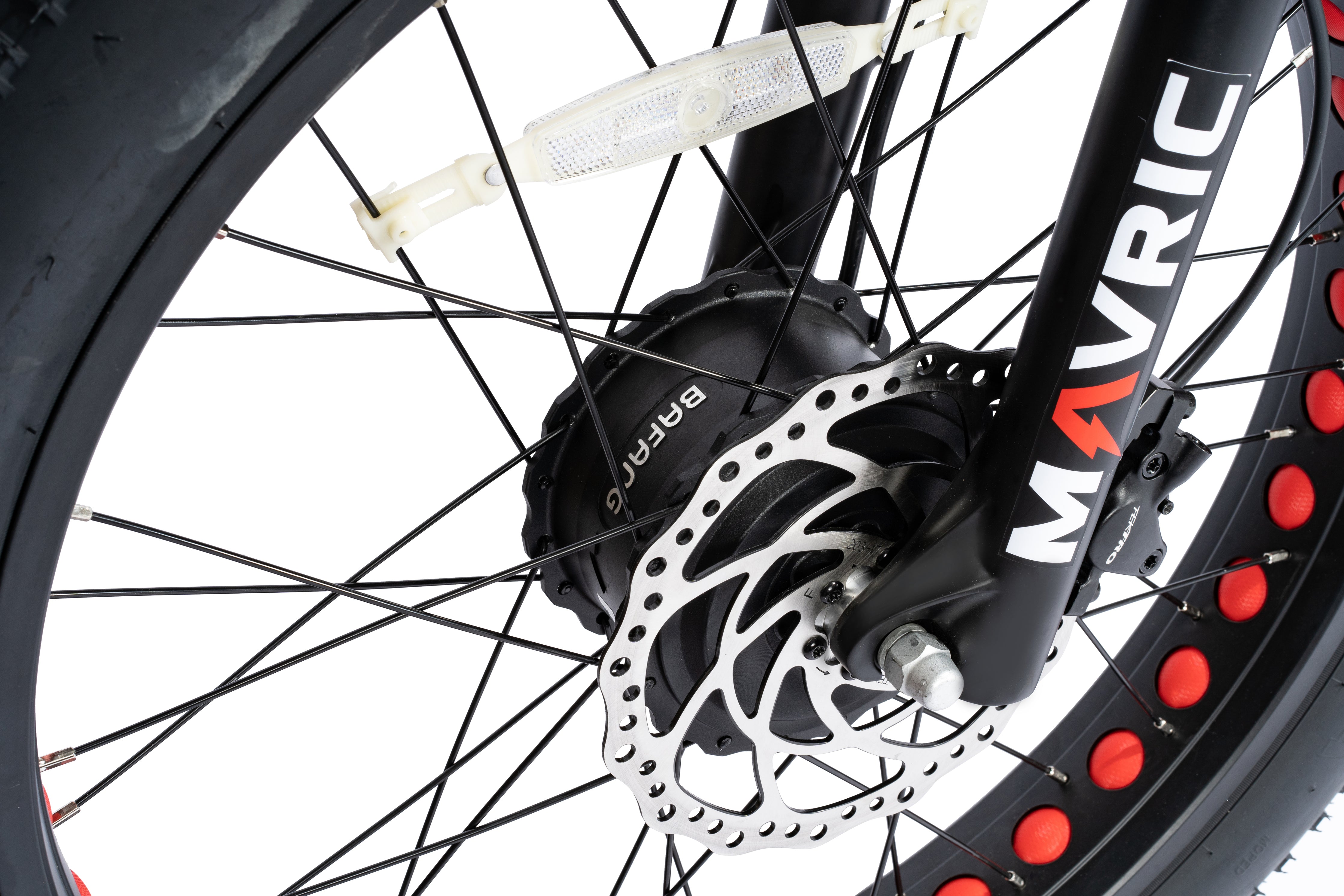 Mavric Matador 750 Watt - BLACK
---
MAVRIC MATADOR ELECTRIC BIKE
Introducing the Mavric Matador Electric Bike –Designed for urban commuters and adventure seekers, the Mavric Matador combines cutting-edge technology with a sleek, modern aesthetic to deliver a riding experience that truly stands out. With its robust features and powerful motor, this e-bike is ready to conquer. Whether you're a seasoned cyclist or new to e-bikes, the Matador offers an unparalleled combination of style, performance, and functionality, making it the ideal choice for your next ride. Order yours today and embrace the freedom of electric-powered cycling!
SPECIFICATIONS
MOTOR - 750 Watt
SPEED - 0-28+ mph
BATTERY - 48V 25Ah Samsung Battery
RANGE - 75 Miles Per Charge
CHARGING - 3A Smart Charger (included)
FEATURES
FRAME - Forged Aluminum
SUSPENSION - Front & Rear
GEARS - 7 Speed Shimano with Grip Shifter
BRAKES - Premium Hydraulic Disc
LCD - Full-color Display with USB Port
WHEELS - Aluminum Rims
THROTTLE - Twist
ADJUSTABLE - Raise or Lower the Handlebars/ Seat
HANDLES - Premium Ergonomic Grip
KEY COMPONENTS

High-Performance Motor: At the heart of the Mavric Matador lies a powerful 750W brushless hub motor, delivering seamless acceleration and a top speed of 28 mph. Whether you're tackling steep hills or cruising through flat terrains, this e-bike ensures a smooth and effortless ride every time.
Long-Lasting Battery: The Matador's 52V, 25Ah lithium-ion battery provides an impressive range of up to 75 miles on a single charge, making it perfect for daily commutes and weekend adventures. The removable battery design allows for convenient charging at home, work, or on-the-go.

Advanced Suspension System: The Mavric Matador is equipped with a full-suspension system, featuring a front suspension fork and rear shock absorber, providing exceptional shock absorption and ensuring a comfortable ride even on the roughest terrains.

Rugged Frame: Built with a lightweight yet durable aluminum alloy frame, the Matador is designed to withstand the wear and tear of daily use while maintaining its sleek appearance. The step-through design makes mounting and dismounting the bike easy and hassle-free.
All-Terrain Tires: The 26-inch fat tires provide excellent traction on various surfaces, including pavement, gravel, and dirt trails. Their puncture-resistant design ensures a worry-free ride wherever your adventures take you.
Smart Display: The integrated LCD display provides real-time information such as speed, distance, battery life, and assistance level. With five levels of pedal-assist, you can customize your riding experience according to your preferences.
Safety Features: The Matador is equipped with a bright LED headlight, taillight, and brake light to ensure maximum visibility during day and night rides. The hydraulic disc brakes deliver reliable stopping power in all weather conditions.
Multiple Riding Modes: Choose between three riding modes – throttle, pedal-assist, or manual – to suit your individual riding style and preferences.

*All range estimates are contingent upon rider and towing weight, riding style, wind speed and terrain.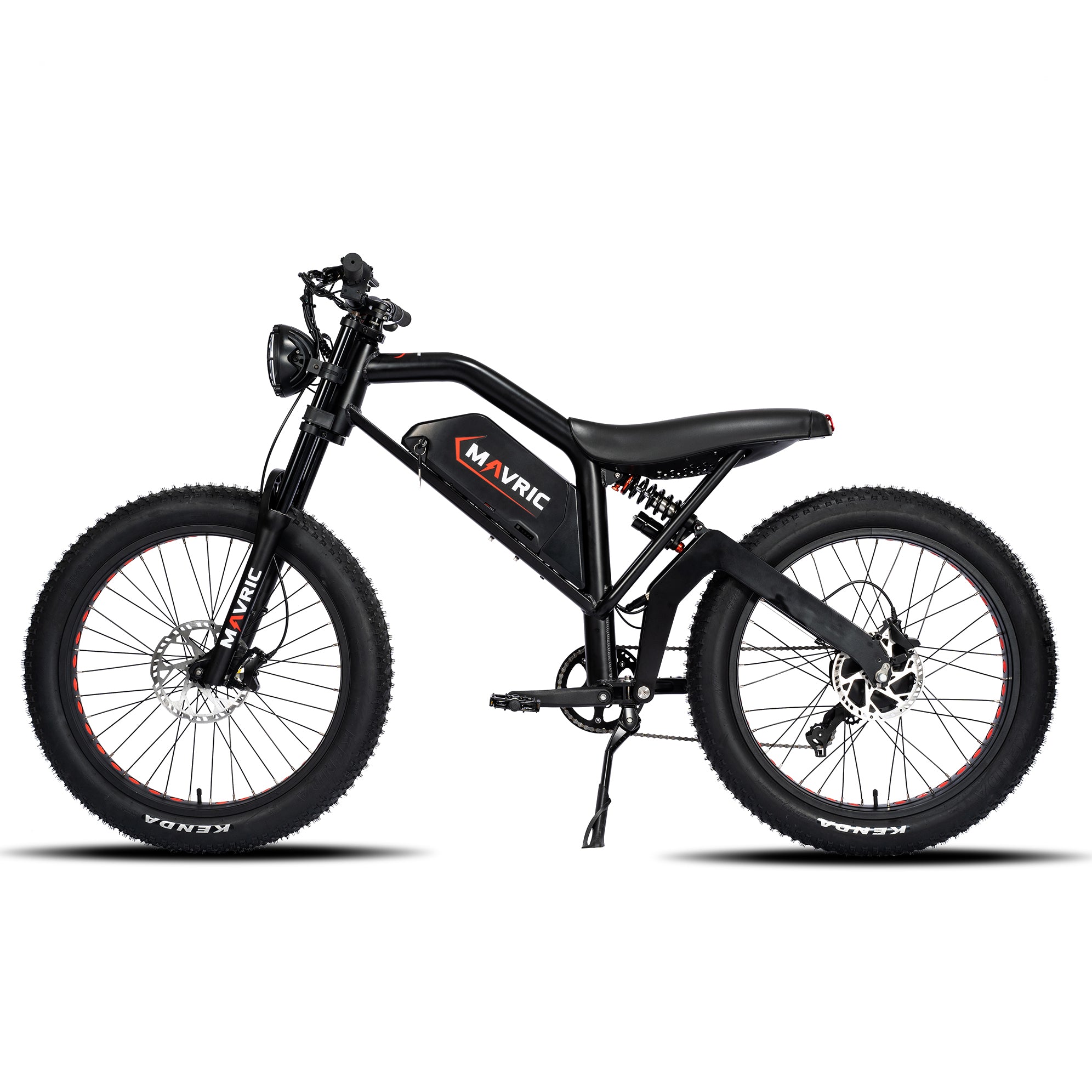 This product is rated 5.0 of 5.0 stars.
It has received 2 reviews.
STOP THE SEARCH
This e-bike is THE VERY BEST on the market and it's not even close. The speed & thrill coupled with the control & safety sets it apart, for my wife and I and for the kids. I simply cannot recommend enough... and unreal bang for your buck value. Mavric rider for life, here.
Riding is believing!
I LOVE The Matador and THE POWER!!! Great for rides into town and on the trails. Could not recommend more highly.